Posted on March 22, 2018
By Robert T. Dunphy
Some of these innovations may change how freight is moved in the future.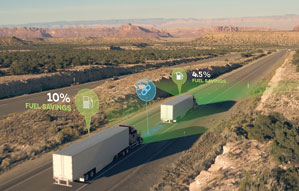 While public interest in transportation focuses largely on commuting and personal travel, much of the future growth in transportation demand will involve moving freight rather than people. Some extraordinary technological developments in this area are already underway. Innovations currently under development include the following.
1) Truck Platooning. Fuel and safety are one of the biggest concerns in the trucking industry. Being able to connect two or three trucks together in a "platoon" reduces the distance between them to as little as 20 feet, allowing a following truck to take advantage of fuel-saving aerodynamics as it coasts in the wake of the lead truck. Peloton, an automated vehicle technology company that has developed a platooning system, estimates that cost savings could be approximately 10 percent for the second truck and 4.5 percent for the lead truck in a platoon. The company may have paired trucks on the road as early as 2018, according to an October 22, 2017 Washington Post article.